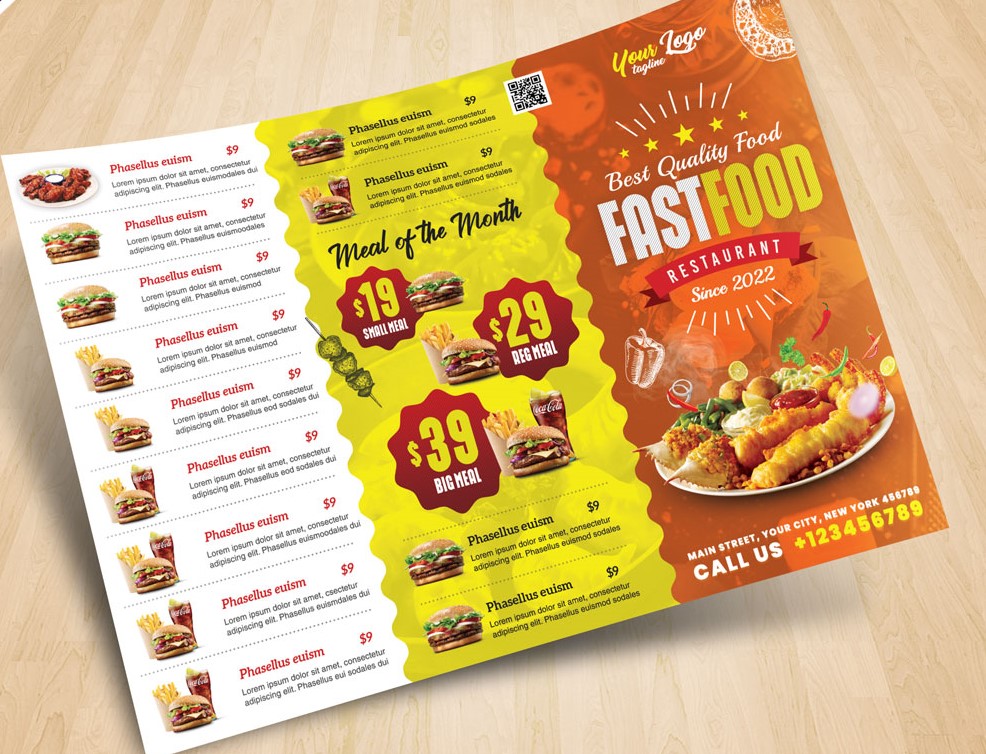 Menus are very important in the restaurant business.  Sit down or take out, you want your restaurant to look your best.  At CenTex Printing we specialize in custom menu printing.
The Need For Disposable Menus
Everything seems to be changing these days.  Restaurant menus are one thing that may be a little different as we move forward from COVID-19. Our orders for disposable menus have increased dramatically over the last month. As many restaurants transition to meet the requirements of their local governments and the demands of their customers.
Disposable Menus Are Healthier
You may have never considered how many times the menu you are holding had been touched.  But that may be something your customers will have on their mind from this point forward. Disposable menus are simply a healthier option for your customers.  A fresh, never touched, menu will put them at ease.  Not to mention that some state and county governments are now requiring restaurants to utilize disposable menus as part of their Phase 1 reopening in the wake of the COVID-19 pandemic.
To Get A Quote For Disposable Menu Printing Call:

1-800-397-2087

or

254-771-2422
Do Disposable Menus Look Cheap?
At CenTex Printing we can print your disposable menu on a variety of mediums.  From thick, high gloss cover stock, to a nice matte finish, to nearly indestructible synthetic paper.  All options will have your menu items, colors and layout looking better than ever.  Using a disposable menu doesn't mean you have to give your customer something that looks like it was printed from your computer.  They can be as nice as you want them to be.
Menu Styles
How you want your menu to be laid out is up to you.  They can be…
Single Page Standard: These are typically printing on a 8.5 x 11 sheet, standard sheet size, and can be full color front and back or grayscale.
Long Sheet: These can be up to 11 x 17 if you really want something over sized. We can trim down to whatever custom size you need. Full color front and back or grayscale.
Tri-fold:  Tri-fold menus are typically printed on 8.5 x 11 sheets and then folded three times and printed front and back. This gives you 6 panels of information for your customer.
Frequently Asked Questions For Disposable Menus
Q: Do you design restaurant menus?
A: We can do the design work for you.  If you are having your menu designed by a graphic designer just make sure they are providing you a "print ready" file that includes bleeds and crop marks. If you need us to design your menu, we can work with you every step of the way.  You can read more about our Graphic Design services HERE.
Q: How much do disposable menus cost?
The cost for your menus are going to depend on size, paper choice, quantity and whether or not any setup (graphic design work) is going to be needed. The best thing to do is to give us a call at 254-771-2422 or 1-800-397-2087and we will be happy to help.  You can also email quotes@centexprinting.com with a description of what you are needing and we can get you a detailed estimate very quickly.
Q: How long will it take to have my menus printed and delivered?
In most cases we can have jobs printed and delivered within 7 to 10 business days.  It may be quicker than that, because we have a very efficient operation that allows us to expedite jobs in many cases, but the expectation should always be 7 to 10 business days most of the time.  If there is anything that may delay that, we will let you know up front.